Constance August 24th, 2008
In Cuba around 1863 the Bacardi family began to distill rum.  Their logo is a bat, modeled on the families of fruit bats that nested and swooped through the Bacardi cane plantations and distillaries.  Among Cubans, fruit bats are considered bringers of good luck.   The same bat logo is still employed today by Bacardi.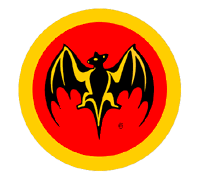 Bob Kane's Batman arrived in 1939 — he's nearly 70. One wonders if there was any bit of subliminal influence from Bacardi to Kane's Batman logo? There was an awareness of Cuba and things Cuban, particularly rum and music, back in those days that's difficult for people who came of age in the post-embargo era to realize.