Constance March 28th, 2012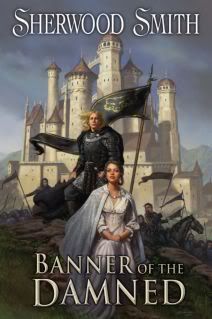 Sherwood Smith. Banner of the Damned. DAW, April 3, 2012. 695 pages. Banner of the Damned is set in the secondary fantasy world of Sartorias-deles; the events take place four centuries after the close of the previous Sartorians-deles epic series: Inda, The Fox, King's Shield, Treason's Shore, commonly called the Inda series. It is not necessary to have read these books before reading Banner of the Damned. All these titles are available from DAW.
My complete post on Smith's Banner of the Damned can be found at the SF Signal site, here.