Constance July 13th, 2006
 Deep Genre; Introduction; Part 1; Part 2; Part 3; Part 4; Part 5;
Part 6
"Vampires" is a populous subgenre.  Perhaps you would like to create a work featuring a vampire or vampires, but, you wonder, being the professional genre writer that you are, "Will anybody be interested in another novel, another movie, another television program or a non-fiction study dealing with vampires? There have been so many since Stoker's classic Dracula."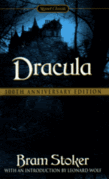 A quick and convenient method for doing the market research exists, nor do you need to spend a penny on it, nor do you need to leave home.  This research has the additional benefit of providing you a quick and dirty survey of available research materials.
I am speaking here of OPACs, Online Public Access Catalogs, that work like the old card catalogs, as an index to a library's holdings — but they are so much faster and have many convenient features the old dearly lamented card catalogs couldn't possess.  You can go to your own, local library's holdings.  However, if your own local public library is small and poor as far too many are in these days of starving all public services to death, you can easily check into one of the larger systems elsewhere in the country – all without paying a penny or leaving your computer chair.
As an example let's zip through cyberspace to the New York Public Library and LEO, the online catalog for the NYPL's circulating collections.
Click the TELNET option on this screen.  A log screen will come up asking for a login.  Type in: leo, hit enter, then wait.  Another small box will come up which is captioned, "Welcome to the New York Public Library's Leo."  Follow the instructions.  Choose #1 of the options that come up on the next screen, and you can start searching.
For example:  a keyword search on vampire produces 417 item records on 60 screens.  A search on the plural, vampires, brings up 55 screens and 379 records.  There may well be more now, since I did this particular search some weeks ago.
The two largest, discrete groups of item records expectedly are Ann Rice's works in many languages, and various Buffy-Slayage materials, which are unconfined to video, since for a time Our Slayer in Sunnydale generated a publishing industry all about her.  LEO's entries for Buffy and Rice reflect how both revitalized the vampire category, as the number of  vampire works derived from the Rice and Whedon visions entered in the late 80's and the 90's increase every year.
Performing a subject search in LEO, the vampire materials break down the materials' formats.
The largest number is for films and video; 107 title records – multiple copies of The Lost Boys –  31 title video recordings, which, to the delight of Buffy aficionadas, lists Scooby-Doo's Spookiest Tales ( J dvd 791 45 S 2001) with the vampire episodes.
In the subject listings are encyclopedias and studies, significantly, Howard L. Malchow's  Gothic Images of Race in 19th-Century Britain ( 1996. 823.M.), which  examines the immigration theme and imagery in Bram Stoker's Dracula.
There are 97 fiction entries –14 screens' worth, entries increasing sharply in the 90's.  The earliest fiction entry is from 1983, the juvenile, The Celery Stalks at Midnight, by James Howe, followed by a whole slew of other juvenile vampire titles. The earliest is from 1984, The Vampire Takes a Trip, the first of a series, by the German children's author, Angela Sommer-Bodenberg.  The latest vampire fiction record is 2006, the derivatively titled Even Vampires Get the Blues by Katie MacAlister.
The circulating collections have done what they can to gratify our ever-swelling vampire love. Even so, they lack more than one significant vampire work, such as Darkspawn (2000), by this site's own Lois Tilton.
A search on Vampire – Subject in CATNYP, the NYPL online catalog for the five non-circulating research libraries in the New York Public Library system, brings up an even larger number of  titles than the branch libraries' circulating system does.  The research libraries are far from complete collections, nor are the vampire materials in their holdings gathered into a Special Collection.
However, a Special Collection for vampire materials does exist, just not in the NYPL system :
Phyllis A. Roth Vampire Literature Collection 
"This collection is dedicated to Skidmore College Professor Phyllis A. Roth in recognition of her scholarly contributions to the study of vampire literature, her lifelong service to Skidmore College as a teacher and administrator, and the deep affection in which she is held by many grateful students, friends and alumni. The collection is given by J. Christopher Giancarlo (Skidmore Class of 1981) and his wife, Regina Beyel Giancarlo, and generously supplemented by Phyllis Roth and friends. The collection features rare and first editions of many vampire books as well as magazines, playbills, comics, ephemera, and assorted toys and accoutrements relating to the vampire theme. An inventory of the books is available through a database in Special Collections; please contact staff for more information."
I suggest you check the online catalogs of your local public library collections and your local academic and specialty libraries and see what you might be able to find next door.
All of this to show that if you are interested in creating works of the imagination that are populated entirely, or in part, by vampires, the mojo is still workin'.
You can do this with any subject.  It's fast, it's convenient, it's free.  It's your right as a tax paying U.S. citizen.  Do it!