Constance June 27th, 2006
Deep Genre; Introduction Part 2; Part 3; Part 4; Part 5; Part 6;
Part 1
This is an admirable addition to the canon of vampire films.
 
 
Virgin's Diary is particularly intriquing because it combines 3 creative forms: novel, film and ballet. Additionally, Stoker's Dracula (1897) and German director Murneau's Nosferatu (1922), on which this film-ballet is based, are both progenitor works of vampire genre, making Dracula: Pages From a Virgin's Diary a derivative work, that is also an original work. (The ballet was choreographed by Mark Godden for the Royal Winnipeg Ballet company in the late 1990's.)
In this film Canadian director Guy Maddin employed the silent cinema conventions of superimposed images, irises, odd angles and title cards. From director Murnau he borrowed the signatures of expressionist cinema – distortion, exaggeration, and extreme metaphor, with an emphasis on composition and shadow play – perfect for filming a vampiric story ballet.  Murnau's was the first way we saw vampires on film (there were stage productions of vampiric works even before Stoker's novel was published).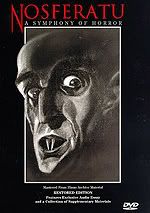 Maddin added gouts of color here and there throughout the film: scarlet blood, glowing green and gold money, the dark, sticky crawl of the vampire's trajectory out of the primitive east to civilized England. The soundtrack is Gustav Mahler, thickened with occasional source sound additions such as the penetration of fangs and stakes, the ugly whack of a beheading.
Maddin mated the film techniques of Murnau's plague infestation theme with Bram Stoker's delirious sexual confusions. The title card texts are direct quotes from the Stoker novel.  The characters are Stoker's, played by dancers in the Royal Winnipeg Ballet Company.  Though there's a veneer of  irony, it's very thin, for this is a ballet based on a work from the era of melodrama theater, where Stoker spent much of his working life. Dracula was adapted to the stage almost immediately upon publication.  (An interesting aside: the same year Dracula was published,  Kipling wrote his poem, "The Vampire," to accompany an exhibition of painting by Philip Burne-Jones.)
Many of the actors in the movies from the silent era received their training in the theater, a theater before microphones.  Their exaggerated gestures and expressions were meant to project from down stage to the back row of the house; they evolved out of pantomime and earlier public entertainment forms.  With certain refinements these are still used by ballet dancers, the best of whom are actors as well as dancers.  Their technique is a rigorously trained combination of controlled exaggeration and perceived delicacy.
This rhetoric of ballet technique is an informative mirror in which to reflect the Dracula text, while unpacking the erotic contradictions and cautions embedded in the text.  Stoker's vampire novel is about the ever-shifting values of sex and gender.  What is womanhood? What is manhood? Is sex evil?  These questions are asked on nearly every page. Since these confusions and conflicts are present in any era, in any person's life, it is unsurprising that Dracula has never been out of print since its publication.
The ballets in the film delineate in clear actions of the body these conflicts and confusions are.  The Blood Brotherhood of True Men, led by Van Helsing, are mirrored by the Vampiric Harem Trinity, submissive to Dracula. The medical examination of Lucy by Van Helsing is as invasive as Dracula's fangs, equally lascivious but without the seductive glamor and pleasure of the Dark Kiss.  It is comic, but it is ugly, not fun.  Nor does Lucy respond to Van Helsing's clumsy gropings – she lies unconscious, inert, whereas touched by the Dark Lover's delicacy, she responded with every part of her body.   All actions are mirrored by their opposites, but their state is fluid.  It is 'good' for Van Helsing to examine Lucy, but it is demeaning.  It is bad for Dracula to bite Lucy, but it is breathtaking, and the bite lifts her out of herself.  What is good today tomorrow will be evil. We are lost in a hall of mirrors.  There are no final answers.