Constance December 26th, 2011
Penman, Sharon Kay. (1995) When Christ and His Saints Slept.  Ballantine.
Darkness Falls Early: Reading in the Winter Solstice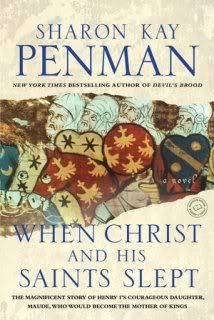 At the end of the summer I read Lionheart (2011), the latest in Sharon Kay Penman's series set in the era of Henry the II, Eleanor of Aquitaine, their progenitors and their progeny.  It was so interesting I looked up the novels that came before, Devil's Brood (2008), Time and Chance (2002) and now, the first one, When Christ and His Saints Slept (1995). It's odd to read a series backwards, but that's how it works these days, when an author's earlier books take more effort to get hold of than we might like.
Lionheart follows the crowned Richard into the east on Crusade. Almost all the women who are part of the previous novels' action are still alive.  Those who were born during the course of the series are now adults and often monarchs themselves. Devil's Brood brilliantly describes the political and family causes prompting King Henry II's sons and his Queen to rebellion, and his sons to further betray each other.  But, In my opinion, Time and Chance is the best written of the four.  That may be because Time and Chance covers what we already think we know about Henry II and Eleanor of Aquitaine, including the Thomas Becket affair, so the events and characters are familiar to both author and reader. But Penman's Time and Chance is not the plays, Becket and Lion in Winter, or the subsequent films, the historicity of both more than questionable. In the course of researching these books Penman speaks on her website and in interviews of how much she learned is wrong about what we think we know about these characters whose names are familiar even these many hundreds of years later. One of the reasons we have misinformation is political. Then, as much as now, interested parties who could write, who were hostile to the Plantagenets, such as the French, used sexual slander and all the rest of the weapons in the political weapons arsenal to descredit their rivals and enemies.
It's difficult, submerging oneself as a reader into When Christ And His Saints Slept, the earliest book in the series. It's hard to know who is who, or even who is a fictional character. It turns out none of them are fictional, with the significant exception of a character who continues throughout the series, a series which at the time of this novel's writing, the author didn't know she was going to write. Another difficulty, which is in no way the author's fault since these are the historically recorded movers and shakers of the events, is that so many of them share the same names, whether monarchs, royal bastards, high ecclesiatic officials, and are not always of different generations either. Then, Penman  made a compositional glitch by writing a prologue set some decades before the novel proper opens, then opening the first chapter in another decade with yet other people we not only don't know, but whose relationships to those in the prologue we don't know either.  These are the families and vassals who make the twenty years long civil war, the bloody conflict between Henry I's nephew, Stephen, and the King's legitimate daughter, Maud, the former Empress of the Holy Roman Empire and now Countess of Anjou.
However, that we don't know much about these people, the times, or this 12th century English civil war, will be remedied by the time this novel is finished. Additionally it brilliantly sets up what will happen throughout the following volumes, though half of those volumes weren't planned to be written when this one was (one more at least is in the process of being written). Once we've dug our way through this prologue and the next 40 pages or so, the reader is stabilized as to who the people are and where in geography and when in time they are. Unlike the unfortunates in the early pages who chose a berth on the White Ship, we're sailing on smooth waters, treated to Christmas Courts, freezing rain, icy snow, fireplaces and wine, perfect Winter Solstice reading, as are the subsequent volumes.
It's a superb story, filled with colorful, fascinating personalities who scheme against each other, love each other, hate each other, sometimes simultaneously. Henry II is born within the first pages of the novel. The war that is his parents' marriage, his divided loyalty and love, twists this future king's character, the damage of which will roll down the decades. We witness Eleanor and Henry's meeting: like Johnny Cash and June Carter, they "fell into a burning ring of fire."  There are the splendid early days of Henry II's early friendship with Becket.  Yes, no matter how long ago certain things, like falling in love or in friendship, and the bitter pain of betrayal by lover or friend, are the same then as they are now.
Penman's research is responsible and thorough. She's got the tenacity to keep working on her narrative until these long ago, now obscure historical events and people are comprehensible to us in the 21st century. Penman is particularly good at portraying the strength and agency of all her female characters, of whatever station and condition, without making them behave like late 20th century, 21st century American women, or even think like them. They have different personalities and individual characters, whether of high rank or low. Starting with When Christ and Etc. each volume in this series presents the waste of women's political talents denied by their gender. It becomes a theme winding its way through all the series.
In When Christ Etc. this theme is deep and broad: Henry I granted the throne of England to his daughter, Maud, formerly the Empress of the Holy Roman Empire. Henry I's nephew, Stephen, steals the crown on the pretext that bloodshed would be inevitable if Maud's crowned. Stephen invokes the period's unquestioned belief in women's incapacity to rule in their own right, which is founded upon both religion and, "No man will follow a woman to war." But Stephen lacks the hardness of character necessary for a monarch to hold power year after year. Maud has a tribe of loyal, illegitimate brothers, for Henry I was profligate with his affections, siring many bastards, whom he married into wealthy, powerful families, tying these powerful vassals all the more tightly to his line. Thus it is is Stephen who made bloody civil war inevitable because he siezed Maud's legitimately granted crown..
The irony contained in this theme is further deepened. Stephen, unable to quench the fires of rebellion in favor of Maud, resorts to his own wife to do it for him. He sends sweet, docile, loving Queen Matilda into the field to lead her own family and vassals, who seize the port of Dover for Stephen. Successful in no small part because of the devotion all ranks of Matilda's men give her, the Queen continues to other political successes.
As for the series as a whole, a reader who is interested in literary and cultural medieval history of Europe can't help recalling that Chrétien de Troyes was from France's north, and he served at the court of Eleanor's daughter in Aquitaine.  The tales of those extraordinary Plantegenets, Anjous and Aquitaines of the 12th century provided him no little inspiration, we must think, just as his Romances provided some inspiration, when coupled with the real life events of these people, for Penman.  And in the period when darkness falls so early, can there be better entertainment than a series of Romances, then or now?