Constance December 16th, 2006
Speaking of Sir Gawain and the Green Knight, that poetic tale of a Arthurian Christmas wonders — and the British Library —  here's this from the UK Guardian:
Sir Gawain and the Green Knight is one of the finest surviving examples of Middle English poetry, but little is known about the author – except hints that he came from the north of England. How could fellow poet and Northerner Simon Armitage resist the challenge of translating this grisly story for a modern audience?
The article explains very well why Vaquero and I have read this poem aloud to each other over the course of the Nights Before and After Christmas during most of the years we've been married.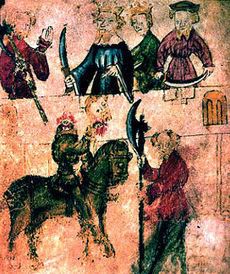 [The poem is also a ghost story, a thriller, a romance, an adventure story and a morality tale. For want of a better word, it is also a myth, and like all great myths of the past its meanings seem to have adapted and evolved, proving itself eerily relevant 600 years later. As one example, certain aspects of Gawain's situation seem oddly redolent of a more contemporary predicament, namely our complex and delicate relationship with the natural world. The Gawain poet had never heard of climate change and was not a prophet anticipating the onset of global warming. But medieval society lived hand in hand with nature, and nature was as much an enemy as a friend. It is not just for decoration that the poem includes passages relating to the turning of the seasons, or detailed accounts of the landscape, or graphic descriptions of our dealings with the animal kingdom. The knight who throws down the challenge at Camelot is both ghostly and real. Supernatural, yes, but also flesh and blood. He is something in the likeness of ourselves, and he is not purple or orange or blue with yellow stripes. Gawain must negotiate a deal with a man who wears the colours of the leaves and the fields. He must strike an honest bargain with this manifestation of nature, and his future depends on it.]
Love, C.